July 10, 2020
The Benefits of Using an Online Bank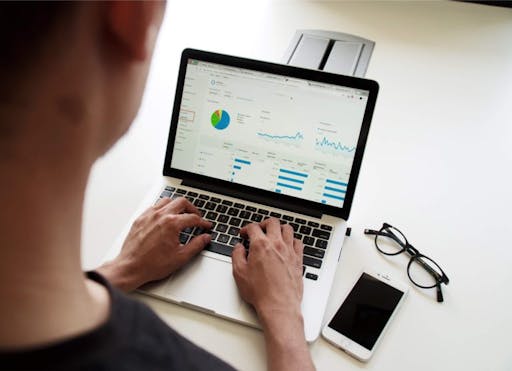 Choosing a bank can be a difficult experience and choosing a bank for your business, is even more so. Most traditional banks make having a personal checking or savings account fairly easy but for businesses, the process is a bit more complex.


If you choose the wrong one it can mean any number of inefficiencies and difficulties managing your business finances. It's no wonder that many business owners are now eyeing online-only solutions for their businesses.
The "Brick-and-Mortar" Problems
Most adults in the United States have had to do business with traditional banks and credit unions in their lives and depending on which bank you choose the experience can vary wildly, but all have the same things in common:
All of them have online components but the variability of what you can do online vs in-person is quite a range depending on the bank. Inevitably though you will have to go into the bank yourself at some point to do something with your account and that means time out of your day to go to the bank, transact your business, and return to where you were.
Minimum funding requirements; these are the nominal amounts that most traditional banks require you to fund into the account when you open it, and can also include requirements of minimum balances to avoid additional fees or closures. These can range from as low as $25 up to $3000! That's money you can't use for your expenses and it really hamstrings the cash flow if you want to avoid fees.
Old-fashioned processes; unless you are dealing with one of the "Big 3" (Wells Fargo, Bank of America, Chase) it's likely the online component of your banking experience will be wildly different depending on the bank. This can mean anything from simply being unable to do certain transactions online (meaning going to the bank in person) to making it difficult to actually connect your account to your bookkeeping software or give access to your accountant to help you with your books.
These are all problems that exist at some level with any traditional bank, though the Big 3 banks are getting better year over year in being more accessible and efficient they are still in many ways bogged down by traditional banking structures.

Enter the Virtual Bank
The last several years have given rise to a few banking institutes with no physical presence, existing solely as online banks (albeit with traditional banking partners for FDIC insurance purposes). Relay, Azlo, Sofi, and Ally have all brought the banking product we've known for years in the US onto the online space with varying products. Ally launched with only online savings accounts available but now has branched into "checking" accounts and lending. Sofi started out as a student loan debt consolidation company but has now started expanding into banking and lending. Azlo launched a checking and savings account aimed at individuals and businesses for the "next generation" of banking customers.
For the purpose of demonstrating the capabilities of this type of bank, we will focus on Relay; out of the online banks they have been built from the ground up with businesses in mind and currently only service business accounts. Their mission is to not only revolutionize the business banking space but to also work closely with accountants and tax professionals to make their product integrative and cooperative with apps like Xero(our partner) and Quickbooks Online.
Relay has worked very closely with the two major accounting apps to make sure the details of each of their customers' transactions are clearly noted and communicated to the software that accountants and business owners alike use to manage their finances. Gone are the confusing and incomplete "memo line" descriptions we've come to expect from traditional banks: instead of a weirdly incomprehensible sentence fragment that may or may not tell your accountant that you went to stay at a Best Western in Idaho you'll see "BEST WESTERN HOTEL" that in the system that can be automatically tagged as the right expense category. This saves you and your accountant time and more importantly, MONEY.
What about the check part of a checking account? I don't know about you but I never relished sitting at the kitchen table some night or weekend and writing out the monthly bill payments on little scraps of paper and then paying for postage and licking envelopes in order to pay my bills. Seeing the system that Relay provides for bill payments directly online is just amazing. All you have to do is enter the payment information for each vendor you want to pay (which can pull directly from your Xero or QBO account) and with a couple of clicks, you have paid the bill and recorded the payment in your accounting software.
E-deposits also take the need for going to the bank away further: you just need to snap a photo of the front and back of a check and press "send". You even get a debit card with no ATM fees sent to your address within 7-10 days of opening your account, with a "virtual" card number available to use from the moment you open the account.
Another deviation from traditional banks Relay and others provide is lower fees. Relay for instance has no monthly fees nor any minimum cash requirements for the accounts (aside from the initial $10 funding of the account that is) and only charges 50 cents per bill payment transaction. The connectivity built into the system also works with other banks so if you have personal accounts or credit cards (currently not available with most online banks) then you can connect those accounts directly via Relay's site and then make transfers and payments to those from your account at Relay.
One more excellent feature of a Relay account is how easy it is for us as the accountant for your business to open the account on your behalf; if you sign up for our services we can open the account for you and all you'll need to do is fund the $10 minimum to start the account. We can also connect our software to the account immediately and start capturing your activity in the accounting system, all with zero effort on your part.

How Do I Get in on the Revolution?
Thankfully all the online banks are very easy to work with; their systems are optimized for online management and geared towards our current and future connected lives. Often you can have your account up and running within minutes of visiting their sites.
As you may have guessed we're all REALLY big fans of Relay here at Formations; we have never seen a bank with more features and connectivity for such a low cost to the customer, and the fact that they are so cooperative with accounting firms engenders them to us greatly. But we're also fans because they're a good company with great people working with them. They never fail to answer an email or phone call when we have questions and as I've stated before I've never had a better experience with a bank as an accountant.
We encourage you to check them out and if you have any questions about online banks reach out to us. We love talking about these things and would like to help as many people enjoy a new, shiny always-online experience.